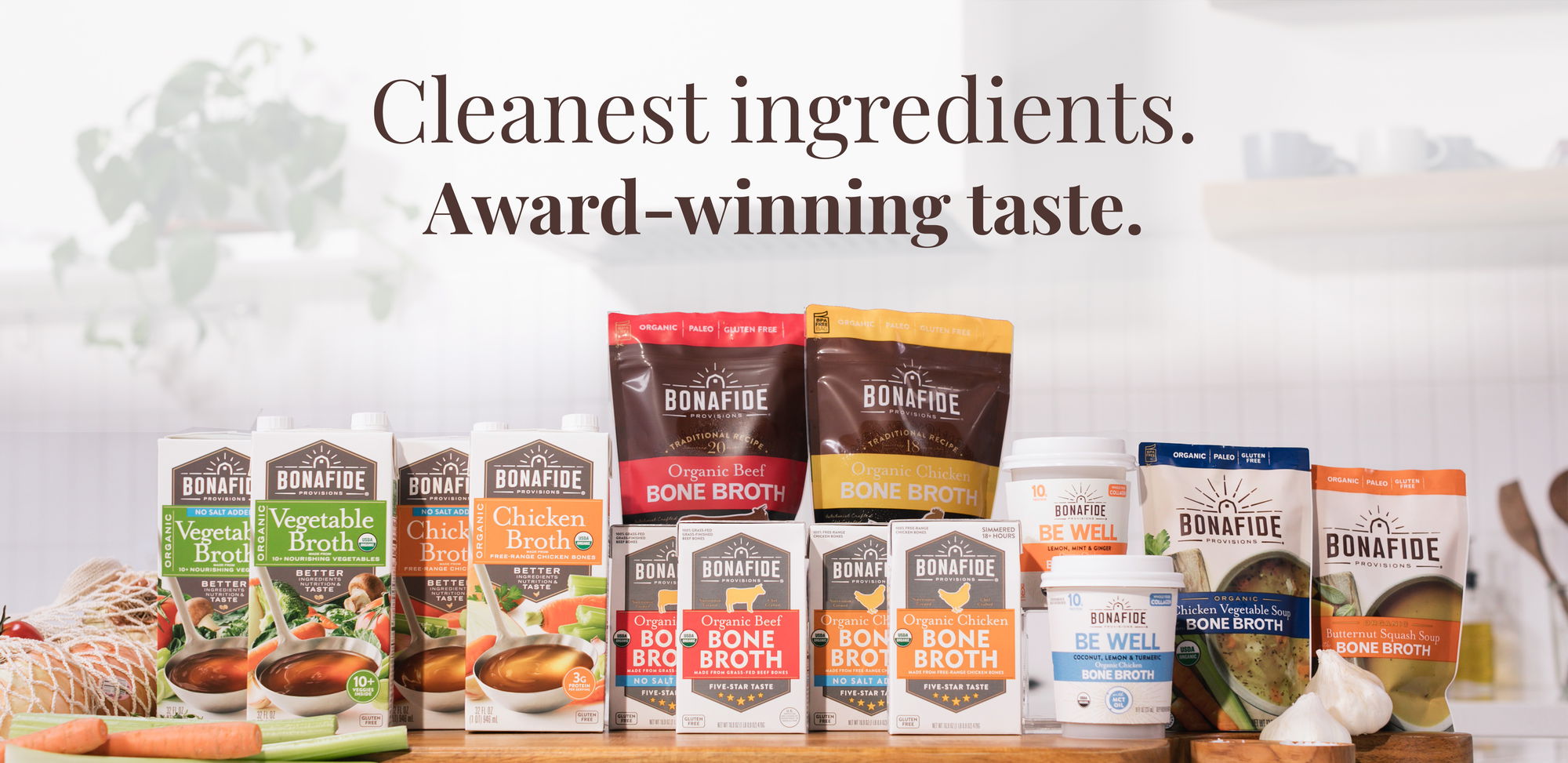 The Bonafide Difference
Bonafide Makes it Better
Only ingredients you'd find in your kitchen
Tastes like homemade
(maybe better?)
Better ingredients make better tasting food.
We Are Certified
We do it because it matters.
We Believe Food Has The Power to Change Lives
Bonafide Provisions was created by a mom and Clinical Nutritionist who used whole food approach as the cornerstone of her nutritional practice. 
Read Sharon's Story
Our Bonafide Friends
@health_bychristina
Christina Zacchilli, RD
"Bonafide's products are the best of the best! They use REAL food; no inflammatory oils, natural flavors, or added sugar, to create delicious products. They use high quality bones from organic and grass-fed animals which is not the case with all broths on the market. You can feel good about purchasing this brand for you or your family because the quality and taste are both there; it's a win win."
@ellie_eatingelevated
Ellie Anderson, RDN
"As a holistic health practitioner and a mom I reccommend Bonafide Provisions. With pure, simple, nourishing ingredients, none of the junky stuff, and a taste that goes down so smoothly, I have found a product we love to share - and keep for myself too :)"
@naturallysweetrd
Courtney Woo, RD, CDCES
"Bonafide Provisions gets my dietitian stamp of approval because they don't sacrifice quality for flavor! They use simple, wholesome ingredients - no gums, fillers, seed oils ever - to create soups, broths, and bone broths that are incredibly delicious and healthy. Bonafide Provisions cares about your health AND your tastebuds, so I recommend them 100%!
@foodcourage
Arika Hoscheit, RDN
"Bone broth has played a key role in my autoimmune health journey and creating a nutrient-dense, healing diet. It can be difficult to find store-bought products that don't contain harmful additives and generally inflammatory ingredients, so I'm grateful for Bonafide Provisions bone broth. It tastes great, it's made with simple, high-quality ingredients, and it saves me time in the kitchen."
@bamichels
Brittany Michels, RDN, CPT
"Bonafide broths & soups are a family go-to! We can always count on quality ingredients that make us feel amazing. We keep several on hand & they're especially handy when I need gut healing and/or post workout support."
@kelly.powers
Kelly Powers, RDN
"Bonafide Provisions is my absolute favorite! I trust the company and appreciate the quality ingredients used. Plus, it's simply delicious!"
@paigetapp
Paige Tapp
"I absolutely love Bonafide bone broths. They have become a staple in my diet, as they have been the primary factor helping to heal my digestion. With professional sports and the constant stress I put on my body physically, bone broth has been unbelievably supportive. It helps my joint flexibility, alleviates pain, AND reduces inflammation. All active lifestyles of all ages can benefit immensely from the nutrients bone broth provides and Bonafide is my absolute favorite. I can't find anything else that's quite like it!" 
@shutthekaleup
Jeanette Ogden
"I use Bonafide Provisions because it's liquid gold, REAL FOOD. It's quality, organic, pasture raised, non-GMO and grass fed AND it's so flavorful even by itself. Sold me with that one. "
@kalejunkie
Nicole Modic
"Healing from the behaviors associated with an eating disorder is tough enough, but then there's the next part: how do you go about repairing your gut from all the damage caused over the years?... Bone broth is a big part of it – I'm looking at you @bonafideprovisions… "
@rachlmansfield
Rachel Mansfield
I owe a lot to bone broth and particularly Bonafide Provisions… I started eating meat again. That was because of Bonafide Provisions. After one sip of chicken broth, I was addicted and can confidently say that very few days go by that I don't drink bone broth."
@keto.connect
Megha Barot
Having the Keto Broth postpartum has been the best. Definitely one of my favorite products quality and taste-wise.
@savoringtheflavoring
Katy Allan
"I posted about my habit of drinking a mug of bone broth pre-pizza-night to help keep me from overdoin' it…To this day it works like a charm. My absolute fave bone-broth brand, because I know y'all will ask: @bonafideprovisions."
@bodymindandsoph
Sophia Capobianco
Your Bone Broth has become a huge part of my everyday routine. I have suffered with severe IBS for about 2 years now…The collagen and formula of the bone broth has helped to heal my digestive system while, at the same time, providing 10 grams of protein!
@kristahapp
Krista Happ
"I started drinking bone broth a few years back when I was desperate to get my health back in order. It's now a staple in our home… On the weeks where I am feeling a little less inclined to make my own, I really enjoy @bonafideprovisions."